On Thursday 10th of June, we had the pleasure of inviting our partners to a very special evening. Bocuse d'Or chef, Christian Andre Pettersen, served us a 6-course dinner from his training kitchen at the former Mondo in Sandnes. Pettersen is currently training for the World Cup in culinary arts with his team. The Bocuse d'Or World Championship will take place this year 26th to 27th of September in French Lyon. He has a bronze medal from the previous World Cup, as well as gold in both the two previous European Championships.
Everyone agreed that the quality of food and company that evening was world class. The partner meeting was a great experience for us and our partners, now that we could finally meet in a safe environment with well-kept infection control measures.
Norway Chess has previously also collaborated with Bocuse d'Or and Pettersen, among other things through a cooking competition with Magnus Carlsen and the rest of the players during the annual Norway Chess games.
September and Norway Chess are fast approaching, and we look forward to meeting our partners again then and hopefully under even safer conditions.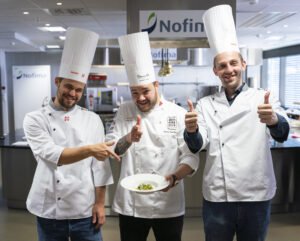 Christian André Pettersen was a mentor to Magnus Carlsen and Alexander Grischuk during the Norway Chess Games in 2019.
Are you interested in becoming part of Norway Chess network? Contact us for more information!