After drawing the classical portion of the match, Magnus Carlsen defeated Alireza Firouzja in a dramatic Armageddon game. Meanwhile, Richard Rapport convincingly won his game against Aryan Tari, grabbing an early lead in the tournament.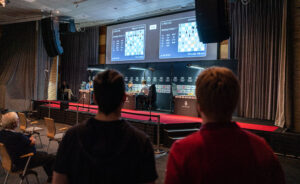 Despite there being only two games on the first day of the 9th edition of Norway Chess (due to the delayed arrival of Ian Nepomniachtchi his encounter with Sergey Karjakin was postponed to the rest day of the tournament) the first round offered its fair share of exciting moments. 
Most eyes were on the game between Alireza Firouzja and Magnus Carlsen. As Judit Polgar pointed out during the commentary, it was a "very tense game for both of the players".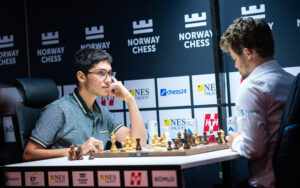 In the Rossolimo variation of the Sicilian, Firouzja tried to surprise Carlsen with the previously unplayed 7. h4!, forcing the Norwegian into a long think. However, Carlsen indicated after the game that he was aware of this new opening line from his own preparation. Consequently, the resulting complications of the middle game were handled adroitly by both players. After multiple exchanges a rook-endgame was reached and Carlsen offered a draw on move 39, which Firouzja accepted.
To the benefit of our spectators, draws in classical games force the players to go into the decisive Armageddon portion of the match. After being tactically outplayed by Firouzja, Carlsen finally managed to gain back some control on the board. As both players only had three seconds left on the clock, Firouzja, with no chance of winning, let his clock run down. As per Armageddon rules where time odds are given in exchange for draw odds, a draw would have still counted as a victory for Carlsen.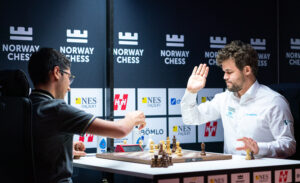 In the second game of the day Aryan Tari faced Richard Rapport's French defence. By exchanging two of the centre pawns early on, Tari managed to create a symmetrical pawn structure, leaving only few imbalances for Rapport to exploit. According to the official commentator Judit Polgar, this strategy indicated Tari will play a solid and safe first game of the tournament. However, Rapport placed his pieces on active squares, exerting a lot of pressure on the Norwegian. The middle game ultimately transformed into an advantageous endgame for Rapport, which he converted into the first victory of the tournament.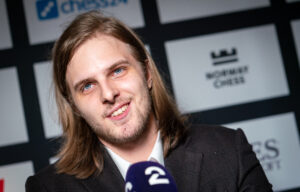 The pairings for Round 2 are as follows: 
Ian NEPOMNIACHTCHI

Alireza FIROUZJA

Magnus CARLSEN

Aryan TARI

Sergey KARJAKIN

Richard RAPPORT
After a rather turbulent journey Ian Nepomniachtchi has safely arrived to Stavanger. The Russian will face Alireza Firouzja in Round 2. Due to Nepomniachtchi's late arrival, the second Russian player, Sergey Karjakin, will also enter the tournament on the second day, where he will take on the current leader, Richard Rapport. Round 2 will also feature the all-Norwegian match-up between Carlsen and Tari.