Players are going to have a lot of fun on the first rest day, Friday the 7th of June. Our new sponsor HTH kitchen in partnership with Bocouse d'Or are organising a "Chess Chefs" competition! On Friday morning the best chess players in the world are going to cook together with the best Norwegian chefs who made it to the final of Bocouse d'Or! The Concours mondial de la cuisine, or World Cooking Contest, named after the chef Paul Bocuse, takes place every other year in January in Lyon, France at the SIRHA International Hotel, Catering and Food Trade Exhibition, and is one of the world's most prestigious cooking competitions! 
Players will be divided into five groups, two players in each one, and joined by one of the five top-level national and international competing chefs, who were competing in the Norwegian Chef of the Year 2019, the national qualification competition for the Bocuse d'Or.
The "Chess Chefs" competition is organized as a collaboration between Altibox Norway Chess and the Foundation Chef of the Year Norway, with special appearance of a Head coach at the Norwegian Bocuse Academy Gunnar Hvarnes, Bocuse d'Bronze 2011.
The "Chess Chefs" will be filmed by the official Norwegian broadcaster TV 2, and you can also follow us on social media with hashtag #NorwayChess for the photos and videos.
Gunnar Hvarnes (42)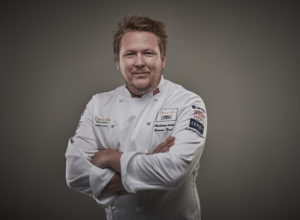 Hvarnes has previously competed in culinary contests, achieving silver in the 2004 Norwegian national championship, and winning gold in 2006 and 2007. He was captain of the Norwegian national chef team that won gold in the 2006 world championship in Luxembourg and captain of the Norwegian team that won gold at the Culinary Olympics at Erfurt in 2008. As the winner of Norway's "chef of the year" in 2009, Hvarnes qualified as the Norwegian Bocuse d'Or Europe delegate. In the Bocuse d'Or Europe final in Geneva in June 2010, Hvarnes won the silver medal behind Rasmus Kofoed, qualifying for the Bocuse d'Or final in January 2011 where he got bronze medal. Hvarnes has a wide background of employment with various restaurants and hotels in Norway. He currently works as a culinary consultant at the Gastronomisk Institutt in Stavanger.
Chef Christian Andre Pettersen (29)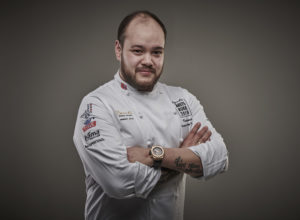 Pettersen is a medalist from Bocuse d'Or, the world's most prestigious culinary competition. With a passion for the chef's profession and competitions, he has dreamt about winning the Bocuse d'Or competition since he was nine years old. To reach the dream, he has competed 24 times, and he has been on the podium every time. The gold in Bocuse d'Or Europe 2018 and the bronze in Bocuse d'Or Lyon 2019, are so far his greatest competition merits. Pettersen describes his culinary philosophy as minimalistic perfection, with a hint of Eastern characters.
Chef Filip August Bendi (30)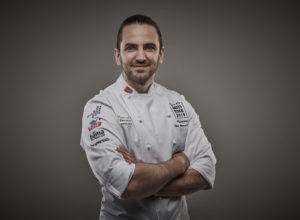 Bendi has already developed a strong career as a chef at international high-end restaurants. Today he is the creative developer at Thon Hotel Bristol in Oslo. He was born into the hospitality industry, and his life has circled around food and wine. As a young apprentice, Bendi decided to let go of any other concern than to become as good as he could. He has participated in many chefs' competitions, with the toughest one being the young assistant to Bocuse-chef Gunnar Hvarnes in the Bocuse d'Or 2011. His food is inspired by innovation, tradition, seasons and he has a deep respect for the characteristics and taste of natural produce.
Chef Marius Dragsten Kjelsrud (25)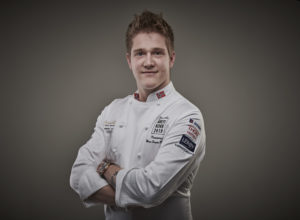 Kjelsrud works at Spiseriet in Stavanger, and already as a six-year-old, he knew that his destiny was to become a chef. The kitchen is like a liberal and free space for him, where you are not judged for what you are, but rather celebrated for what you achieve. The attention to merits is the key reason to why he is attracted to Chef of the Year and Bocuse d'Or, and it is also why he volunteered on the extended team of Bocuse-chef Christian André Pettersen (Torino 2018 and Lyon 2019). When he cooks, he seeks the moments where the guest says "wow!" Kjelsrud is also a former national champion in swing-dancing.
Chef Øyvind Bøe Dalelv (29)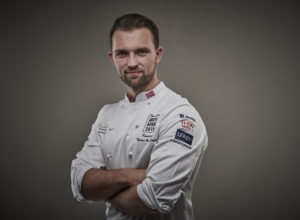 Dalelv trained at the Michelin-starred restaurant Statholdergaarden in Oslo, that is owned by Bocuse-chef and gold medalist from Bocuse d'Or 1993, Bent Stiansen. He has an extensive competition background and made it to bronze and silver in the national qualifications Chef of the Year in 2015 and 2017. This autumn Dalelv is determined at all cost on winning the gold and the ticket to Bocuse d'Or 2021. His food philosophy is colored by his upbringing in northern Norway, close to the sea, and he seeks to extract pure, simple and clear flavors. Attention to sustainability and low-waste is important to Dalelv, and an integral part of his cooking. The years at Statholdergaarden has helped him reach his own style, recognizable as classic and fine with a solid French base.
Photos by Tom Haga
Rasmus J. Skoglund (29)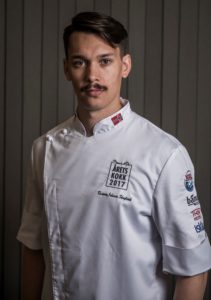 Skoglund has a broad background as chef, which he today applies in his role as culinary director at JAG. JAG is a restaurant group based in northern Norway, with restaurants based on the northern and arctic identity. He has participated in many competitions and made podium in most. Among others, he placed as bronze in Chef of the year 2017, the Norwegian qualification to Bocuse d'Or 2019, won silver in the World Tapas Championship 2018 in Spain, and was a core-member in the extended team Norway in the European- and world finals in Bocuse d'Or 2018 and 2019. Skoglund describes his culinary philosophy as a refined rustique style, with attention to sustainability, and thus utilize much vegetables along with the lesser used parts of animals in his creative work.
Photo by Fredrik Ringe